Iconic characters enter the annual Superman Celebration Costume Contest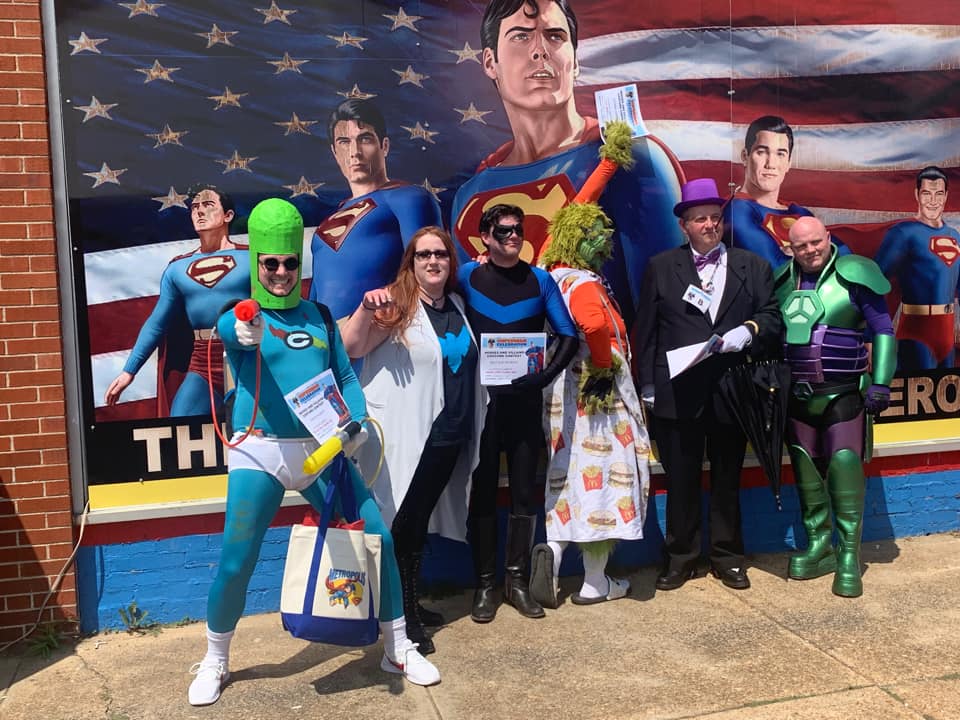 The 44th Annual Superman Celebration held its annual costume contest on Sunday, June 12, which featured a mix of iconic pop culture heroes and villains.
An excessively hot 95 degree day did not deter huge crowds from showing up for the annual event which had 23 competitors competing this year.
Judges for this year's costume contest were Superman Celebration guest artists Sean Dulaney and Steven Walden with John and Dionne Gleckler – who were dressed as "Secret Origins" Jor-El and Lara – served as hosts.
Attendees included Dan Feth as Ghost Rider, Dante Diener as The Riddler, Lonnie Johson as RoboCop, Justin Hays as President Superman of Earth 23, Faith Greuel as Scarlet Witch, Brittney Greuel as Black Widow, Dan Moyer as Superman, William Mashburn as The Penguin, Crystal Martinez as Mera, Dawn Brock-Jones as Live Wire, Justin Brock-Jones as Lex Luthor, Zac Pensol as Condiment King, Misty Licavoli as The Dreamer (AKA Jim Hambrick), Kris Denson as The Grinch, Charlee Soffer as Nightwing, Colleen Egan as Oracle, Sean Casey as One Punch Man, Mariah Brazel as Wonder Woman, Cory Asbury as Solomon Grundy, Kenneth Dunn as The Batman Who Laughs and Debbie Yaco, Gail Scelza and Rikki Zaebo as Superman's godmothers.
Following the presentation of original artwork by Steve Walden to Josh Boultinghouse, costume contest winners were announced, including Zac Pensol (Crowd Choice), Justin Brock-Jones (Best Costume), William Mashburn (Best character), Charlee Soffer & Colleen Egan (outstanding group) and Kris Denson (grand champion).
After a photoshoot with all of the costume contest entrants and winners, the Superman Celebration held its official closing ceremony with special guest Michael Rosenbaum (Lex Luthor – "Smallville") thanking everyone for participating and the encouraging to attend next year's festival.
Photo credit: Brandon Wheatley

×
×
---
---